PKSHA onboarded as a support system for Clip Studio Support
Streamlining multilingual service support with recommended FAQs!
Real-time monitoring of responses provides powerful task management support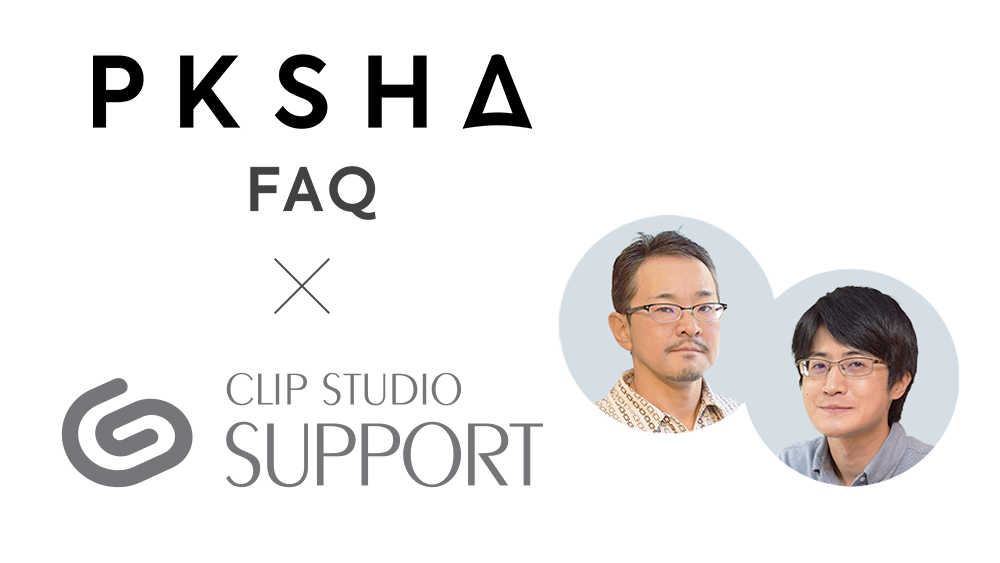 CELSYS, Inc. was founded in 1991 and has primarily been developing applications to support creatives' production processes. Clip Studio Paint, the illustration, comic, webtoon, and animation app has expanded its service globally with over 30 million copies of its app shipped worldwide.
We asked Product Support Division Manager, Nakazawa Toshiharu, and Product Support Division Team Leader, Katsuragawa Hitoshi, about the objectives for onboarding PKSHA FAQ / Helpdesk Support as a supporting system for the Clip Studio Support online support service, and its effects.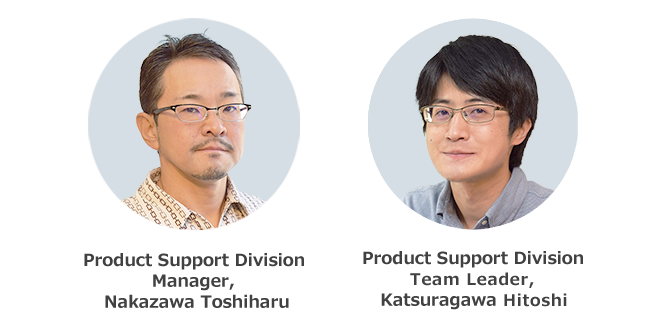 Pre-implementation issues: FAQ system to assist support staff who felt the need for improvement in both management and system usage

-Please tell us about your responsibilities and how you work.
Katsuragawa: As the Team Leader of the Product Support Division's Domestic Service Desk, I take care of staff management and analyze inquiries. I also manage the screen settings and KPIs for PKSHA.

Nakazawa: I am the head of the Product Support Division as well as the Overseas Service Desk Team Leader. The Product Support Division is a 40-person strong department responsible for verification and user support. We have over 20 staff members of various nationalities involved in the user support side of things. We write up FAQs to post on the user support site, Clip Studio Support, as well as presenting feedback to the development department based on user requests and questions.

-What were some of the challenges you faced before?
Nakazawa: We have a culture of doing everything in-house, from product development to sales and support. The FAQs we currently have posted as user support pages are all developed in-house. The only tool we used from another company was the help desk management system, but when we combined it with parts that were developed in-house, we felt it lacked flexibility and the ability to manage KPIs in real time.

Also, when staff were responding to inquiries, they would refer to internal company FAQs, but search terms differed from person to person, making it difficult to find the right FAQ, which would affect response times to users.


Why PKSHA? The reputation for results and expertise from Japan's most widely implemented FAQ System
Emphasis on a flexible APIs and KPIs that can be monitored in real time

-What made you decide to switch FAQ systems?
Nakazawa: We had been having issues for a long time and had considered switching services several times, but couldn't quite take the plunge because of fears of the impact switching would have on user support and the burden it would put on our staff. I had considered implementing PKSHA FAQ / Helpdesk Support for the launch of Clip Studio Support in November 2019, but the timing didn't match up, so we decided to forgo it at the time. We were able to take it up this time because we were kindly offered a 6-month trial.

Katsuragawa: By having 6 months to prepare, we could set up the screen so that we could use the system with minimal issue and also prepare a manual before it all went live. I feel that the preparation time we had was very important.

-What were the points you focused on during the PKSHA FAQ / Helpdesk Support onboarding process?
Nakazawa: We felt confident in the fact that PKSHA has the highest adoption rate in the country. In providing our service globally, we felt that we could prevent incidents that would stop us from responding to customer inquiries like servers going down. Also, the fact that the API was so extensive and was well suited for customization and linking with Clip Studio Support, and that we could have access to detailed KPIs in real time, was a definite pull for me.

The tool we had used in the past was based overseas, so we had issues with flexibility and the fact that it would take time to receive responses to our requests, so working with a domestic Japanese company with a proven track record was a plus. I also could see their reputation for expertise in FAQ creation in case studies with other companies.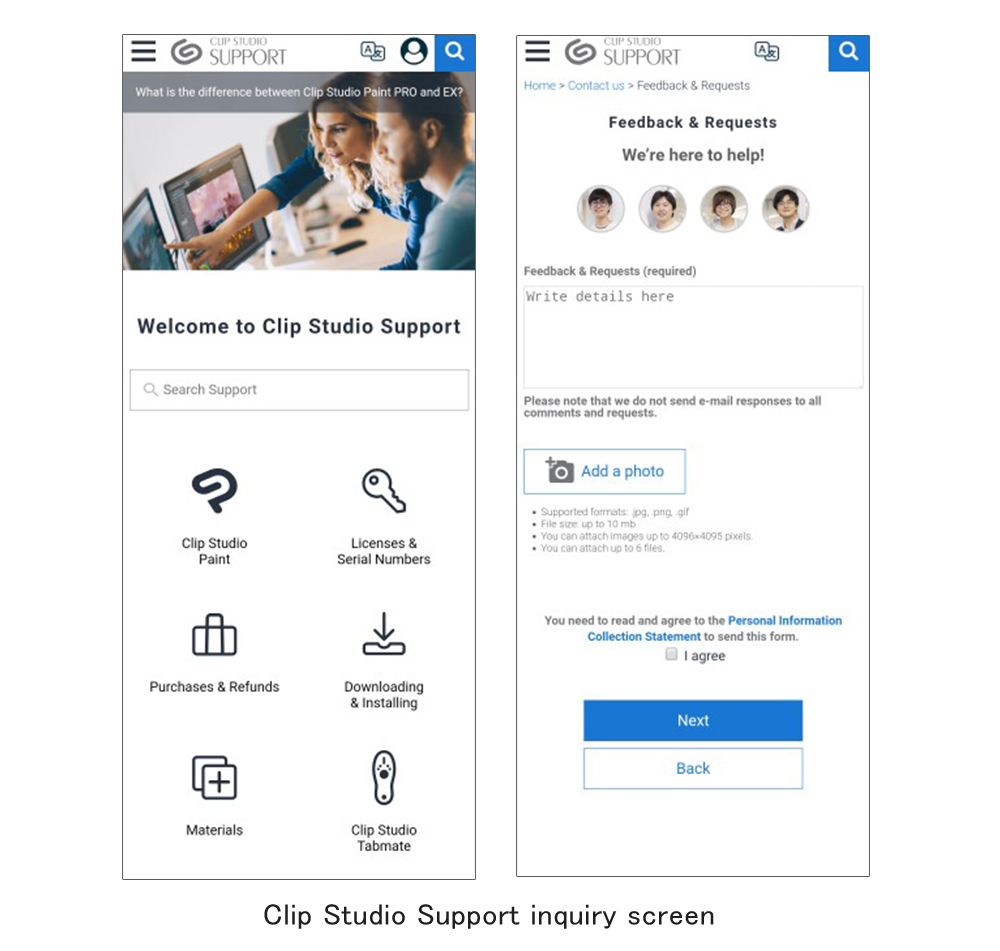 Effects of Implementation: Reduced response times with automatic FAQ results! Noticeably quicker responses!
Simplified task management with detailed real-time KPIs

-What kinds of changes have you seen since you started using the system?
Katsuragawa: First of all, since the system is specialized for user support, everything is set out in an easy to understand way, and since detailed settings can be made with the API, it is easy to customize and the fact that it is so intuitive has increased our efficiency. As it is easy to understand and therefore easy to learn, it has certainly been beneficial to us as the number of new employees increased. We expect our team to grow further, so from that point of view we feel like we've got our money's worth.

Plus, the feature that automatically recommends FAQs based on the content of the inquiry is really useful. Because it appears automatically, we don't waste any time trying to find the right keywords like we did before. We can now seamlessly write responses to inquiries while looking at the FAQs, devoting more time to answering our users, rather than finding the solutions in the first place. This is just how we feel having just introduced the system, but it feels like responding to customers now just happens faster than before.

-What kinds of KPIs do you focus on?
Katsuragawa: We place a lot of importance on the "Thanks Rate," which we measure by the number of inquiries we are able to close with a "thank you" or some other word of appreciation from the user.

We also keep an eye on how long it took to respond to inquiries, and pay mind to not keeping customers from waiting too long. We weren't able to track progress in real time and had to collate the data after each incident, but now we can see the number of incidents that have been successfully closed or not in real time. Just being able to see the daily progress at a glance has made my life as a Team Leader much easier.

Clip Studio Support is published in seven languages, but because we have each language entered as its own category on PKSHA FAQ / Helpdesk Support, we can track the KPIs for each language in real time. Being able to see the KPIs for each language and get a sense of them in real time is very important to us and was one of the deciding factors in implementing the system.


Satisfied with expertise and flexibility that only a Japanese company can provide
High hopes for tools that make use of AI

-How are you thinking of developing it moving forward?
Nakazawa: We place great importance on customer feedback, which guides us in delivering better products and services in the future. Since Clip Studio Paint is available in seven languages, we hope to be able to support creators more on a global scale.
To that end, we would like to fortify our support system by making use of PKSHA FAQ / Helpdesk Support to analyze access to our services, train the staff who take care of our overseas customers, and share knowledge amongst each other.

We are also interested in PKSHA Communication Inc.'s AI-based tools and would like to see how we can incorporate them in the future.

-Did you have any special requests for PKSHA FAQ / Helpdesk Support and PKSHA Communication?
Nakazawa: We were happy that their service was so flexible in the way that only a Japanese company can be, like the fact that they let us cherry pick the helpdesk management part of the system, even though the whole FAQ service is a single package.

Also, when we were implementing the system, our PKSHA Communication representative was very helpful - they shared their knowledge of customer support, took part in our training sessions and seminars and gave us lots of advice along the way. Thanks to that we were able to start using PKSHA FAQ / Helpdesk Support just by transferring the bits and pieces we need to answer to customers like response templates and flow charts. I was very grateful for the advice from PKSHA Communication's unique industry knowledge. We look forward to their continued support through the information and know-how they provide, including roundtable discussions and seminars where we can see how other companies use the service.

*This article was originally published as a Case Study on PKSHA in January 2021.