Drawings on the Net: What has the Internet Changed About Illustrating?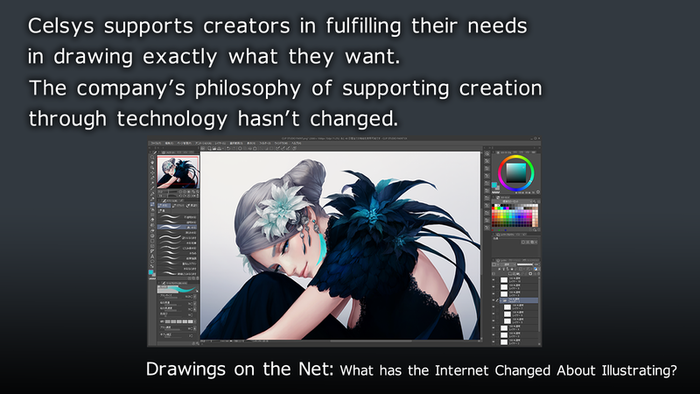 Celsys has been a pioneer in digital tools and continues to produce software. You can't discuss the history of digital illustration without talking about Celsys. The company, outside of producing illustration software, also operates web services. To see how the developers of such software approach users, we spoke with Celsys Marketing Manager, Tetsuya Kobayashi, Application Development Director, Tomoaki Yokotsuka, and Web Services Director, Yuzo Watanabe.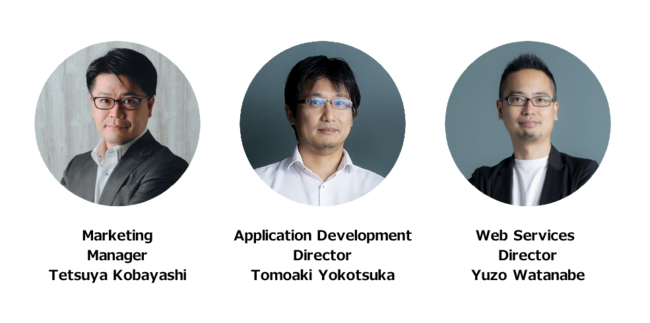 ●Celsys Gets its Start in Animation Software
─At the dawn of graphics software, Celsys was already there developing drawing software, and has continued to support customers since. Could you tell us a little about your company's philosophy, the services you provide? Give us a glimpse into Celsys' business.
Kobayashi:
With the goal of supporting creators, we do business primarily in two categories. One, we develop
Clip Studio Paint
, a creation tool for private consumers, along with web services such as
Clip Studio Assets
(*1) where creators can download brushes and other materials to help them. Secondly, we develop comics viewers and e-book tools for businesses.
─What type of software did Celsys start off developing?
Yokotsuka:
We started off in 1991, when two people started the company to develop and offer the RETAS! animation software. Our name, Celsys, comes from that: we wanted to create a "System" for "Cel Animation." Our philosophy, of supporting creators through technology, still hasn't changed since then.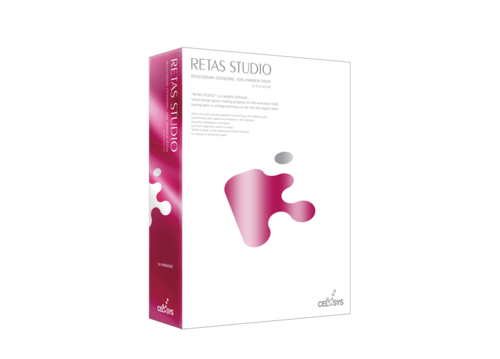 ─Celsys is known nowadays for drawing software, but it's interesting that you started with animation. What kind of software was RETAS! exactly?
Yokotsuka:
It was a software we developed with the goal of making a digital environment for animation, under the name "Revolutionary Engineering Total Animation System" (or RETAS). The very first version came out in 1993. It was organized into four separate programs, for drawing, tracing, coloring and filming. We paid a lot of attention to closely mimicking the traditional animation process, to help animators of the time use the software more easily.
─What kind of users formed your base at the time?
Kobayashi:
We set out from the beginning to create animation software for production houses. So, animation production houses were our primary customers. In 1997, Toei Animation(*2) (known by a different name at the time) started using RETAS, and other production houses started taking note. By 2005, over 90% of anime companies using digital environments were using RETAS.
─Adobe Photoshop came out in 1990, so it's safe to say the 90s were the dawn of digital tools. What kind of features were consumers demanding at the time?
Yokotsuka:
This was right around when it all was starting, so it was a big hurdle to get people familiar with, and used to, traditional creation to understand the unique features and ability to streamline workflow offered by digital creation environments, and to get those people to switch over. Breaking up the software into four separate pieces was also an attempt at preserving a traditional workflow, so that specialists in each field could concentrate on their work as normal. We place importance on letting animators who came from a traditional background to work as they always have, just with a different tool. ComicStudio followed that same pattern, with the ability to start with a rough sketch, then tracing, line drawing… the same as the paper process.
●From pro users to regular users: ComicStudio and IllustStudio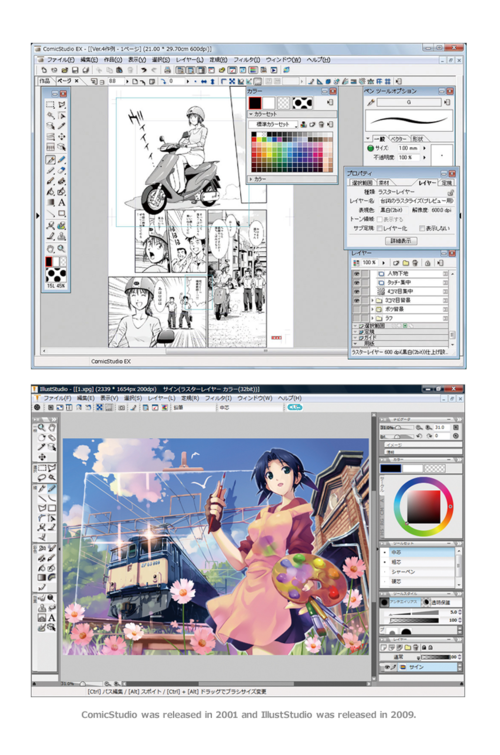 ─In 2001, ComicStudio, a drawing software suite for comics and manga, saw release.
What led to the switch from animation software to illustration software?
Yokotsuka:
Manga is, along with anime, something that Japan is very proud of. At the time, RETAS! had really saturated the market. So, naturally, the next challenge was in digital manga – where there wasn't really a product out there yet. That's where ComicStudio came from. We also imagined that, unlike RETAS!, there was more of a need among private consumers for that type of program. The price range also shifted over to something more appropriate for private consumers.
─How much of your experience gained from RETAS! is reflected in ComicStudio?
Yokotsuka:
There was some wisdom we gained from RETAS!, but the system itself was designed from the ground up with Comic Studio. Especially in the way that the data input from the pen on the tablet is translated in real time to vectors, which makes for a very realistic drawing experience. We put a lot of effort into digital tones with no noise, regardless of how hard you press. With animation, as in RETAS!, the canvas was 640 x 480 pixels, but with manga it's 5000 x 7000 – a huge upswing in the specs desired in that industry. Computers had memory sizes of about 64 megabytes back then, so when you compare it to today, that's a huge tax on your system even for just a single cel. There was a lot of trial and error involved in figuring out how to reduce that strain.
─When did you start to feel that ComicStudio was getting recognized in its own right?
Yokotsuka:
Talking about versions, it was probably around v.3.0. That was about 2003, and we had gotten some feedback from pros and word-of-mouth – and we started getting known right away once that started spreading. Monkey Punch, which is the pen name of a popular creator known as a digital pioneer, started using it, too.
─In 2009, you released IllustStudio. Clearly, you could illustrate in ComicStudio as well.
What led to you creating a software suite specialized for single-page illustration?
Yokotsuka:
We wanted to present a platform to creators that would support their creation efforts on all fronts. As a part of that, we wanted to introduce something lighter, in addition to our software supporting the animation and comic industries. Illust Studio came about as the perfect tool for full-color illustrations. We were already, in house, using a software to improve coloration in Comic Studio for e-books. We put some additional features into that, and that became Illust Studio.
Kobayashi:
(laughing) But we kind of added too many features. It was like there was no prototyping phase.
─How long was development on IllustStudio?
Yokotsuka:
We'd planned for about three months, but that quickly turned into a year. Even after release, we were putting out large updates every two months with new features. That was part of the service we extended to our customers.
─So IllustStudio was developed from ComicStudio as a base. But is there anything you made major changes to?
Yokotsuka:
We overhauled the UI to give users a new experience and hopefully boost their motivation. No one had really foreseen having blending modes for brushes – although it's now common in most drawing software - and that's something that we came upon as we worked.
─Around 2009 was the time that pixiv was really hitting it big with illustrators. Did you experience any sort of influence from the growing art community online?
Yokotsuka:
It was our big aim to be the software that pixiv users created on. Pixiv was big in our minds, and that led us to create a pixiv post function for IllustStudio.
─There's an impression that around then a lot of users were using Paint Tool SAI.
As rival software, that was probably something you had in your mind, right?
Yokotsuka:
We were aware they were a very big presence. We had meetings over and over about how to win SAI users over to IllustStudio.
●A Platform to Link Creators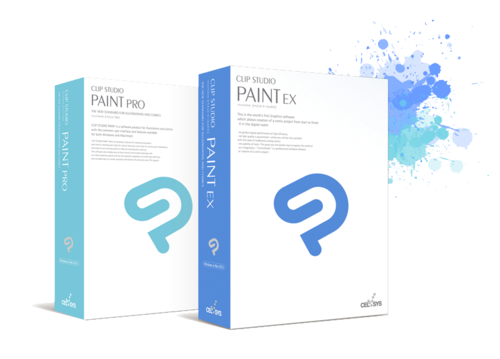 ─Then, in 2012, three years after IllustStudio, came Clip Studio Paint. What's the background there?
Yokotsuka: IllustStudio didn't have MacOS support. We chose to cut that, to speed up development. The environment was changing rapidly – 64-bit OSes, memory capacity was rapidly increasing… We had a feeling people were going to start demanding something new and different soon. Beneath the surface there, we had Clip Paint Lab, which was a drawing software program we were working on that worked the same way across all OS platforms.

─From a developer's perspective, how difficult is making something that's compatible with both MacOS and Windows?
Yokotsuka: From a cost viewpoint, it's big (laughing). In the past, making something for one system and trying to then make it compatible with another always led to things malfunctioning and features not working. It could be a headache. So, with Clip Paint Lab, we started from the beginning with getting it running on both platforms in mind.
─Were there issues or worries in putting out a new product?
Yokotsuka:
We were confident in the features and our ability to implement them, but we did worry about the business perspective.
Kobayashi:
IllustStudio was the first time we were selling a product ourselves, without going through a third party. So, there was definitely a sense of nerves in implementing that knowledge in marketing. Regardless, SAI and Photoshop were really heavy hitters at that time, and it took us a good five years to get on their level.
Watanabe:
I was web development manager at the time and back then there was no AWS(*3), so I had to roll out updates and deal with the server simultaneously. You could almost literally feel the increasing strain on the servers as our user base grew (laughing).
─In a field of paint programs that cost hundreds of thousands of yen, Clip Studio Paint retails for a reasonable 5,000 yen. Why sell at that price point?
Kobayashi:
It was the result of really looking into an ideal price point that was easy for customers to swallow but also allowed room for turning a profit. It's the same thinking we employed with implementing an installment payment option.
─Were you also thinking about how SAI was 5,000 yen too?
Kobayashi:
That… may have had some effect (laughing).
─You were talking about how IllustStudio was developed from the beginning with supporting creators using web platforms in mind. Would you say you had created a new service?
You've presumably focused primarily on software development, but what do web services mean to Celsys?
Watanabe:
The idea of a platform that links creators is where the "Clip" in the name comes from. The online platform provided the perfect way for us to deliver all of the services we wanted to deliver. When you're working with an online service, the first difference you notice is that the customers' voice reaches you much more quickly. We often incorporated that feedback directly into development. We put a lot of passion into trying to create an environment that can get people to see how drawing is inherently fun.
─What's the relationship between the web and tools, specifically what kind of service is available?
Watanabe:
I was wondering how we might make Clip Studio a more all-encompassing service, and this led to
Clip Studio Ask
(*4) and
Clip Studio Tips
(*5), where users can ask experts and interact with other artists of varying levels, and share techniques. These, and
Clip Studio Share
(*6), can be used seamlessly from within the app.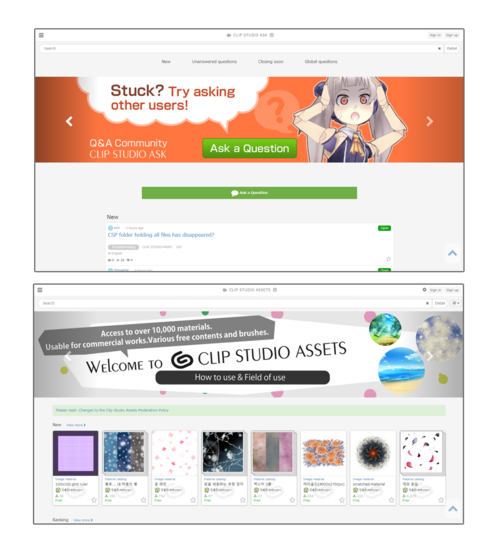 ─There's also Clip Studio Assets, where materials can be shared. What types of assets are popular?
Watanabe:
Trees and stones, water textures and other assets that let you quickly replicate natural elements, as well as 3D model assets that can be adjusted freely in terms of angle and layout. Anything really that can be used to increase efficiency in creating comics, manga, and so on.
─Sometimes assets that people have used that've been really useful or interesting blow up on Twitter. Does that get around to the development team?
Watanabe:
Yeah! We keep tabs on Twitter as part of monitoring our customers' needs. We even have users in South Korea sharing their favorite assets, and there's even one particular account that does quite a bit to spread the word.
─About how much of development is influenced by those customers' voices?
Watanabe:
We're always receiving feedback on social media and through our inquiries form. That's what's good about adding features as we go, is that we are able to incorporate that feedback and make the software better for everyone. For example, functions like Colorize and Pose Scanner came from machine learning and R&D. After that, though, we focus on user response in order to actively incorporate that feedback to make things better for users.
─Do you have a feature you want to recommend to users that you think maybe they don't know about?
Yokotsuka:
Brush settings can be adjusted through the Tool Property palette – letting you adjust parameters – but that bit is hidden from view so I think a lot of users don't know about it. You can use it to really adjust the writing feel to your liking. It's a bit of a deep cut. The UI can seem complex, but it's so that users can really customize it to their liking. Auto Actions, noise reduction and reference layers are also great tools. There's also a function to eyedrop colors from outside of the canvas, which is great if you're having trouble finding just the right color to use.
Watanabe:
From a web viewpoint, we run
Clip Studio Ask
, which is a community for people to ask and answer questions. Everything posted there is also translated into six different languages, so that people from anywhere can help you find solutions. It's also great for getting opinions from people in other countries who may be looking at things from another perspective. It's great, you should give it a shot!
●Supporting Users' Love for Drawing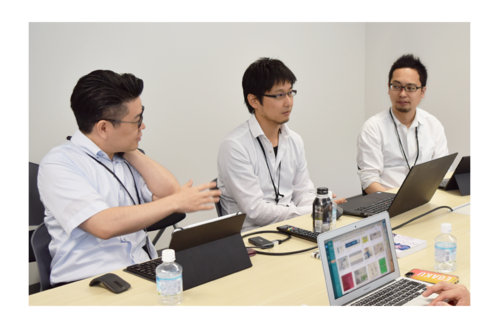 ─The iPad version of Clip Studio Paint came out in November, 2017. What was the thinking behind releasing it?
Yokotsuka: Until the launch, I really couldn't imagine an iPad version of the software ever replacing the desktop version. But, the specs on tablets started getting better, and people started suggesting, hey, maybe this could work. We were working under the surface on the iPad version when the iPad Pro and the Apple Pencil came out. We tried it out on those, and it was really great. Our ability to tackle this quickly and flexibly was really thanks to our experience simultaneously working on Windows and Mac operating systems before.

─A lot of drawing tools run into issues when moving over to iOS and features end up being cut.
It's amazing that the iOS version of Clip Studio Paint is nearly identical to the desktop version.
Yokotsuka: We went forward with development really hoping that we could get existing PC users to see the benefit of having an iOS version. So, we worked as hard as we could to implement as much as we could – outside of features that physically just couldn't work, like scanning.

─Celsys offers both creative software and web services, but are there any services or software from other companies you're paying attention to?
Kobayashi: Procreate(*7) and SketchBook(*8) both really stand out.

─There's the impression out there that manga artists and illustrators are using Photoshop less and Clip Studio Paint more.
Yokotsuka: Certainly, Photoshop is more recognized as a tool to touch up actual photographs… but, Adobe Fresco(*9) might change that, as a drawing tool, and we're looking forward to it.

─Are there any new features or initiatives you want to implement going forward?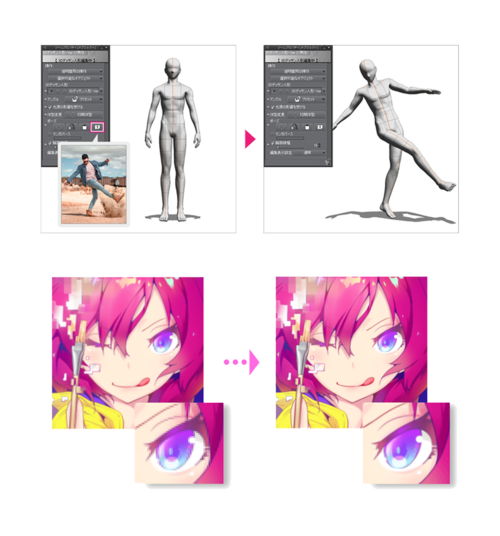 Yokotsuka: Research and development has always been something we've considered to be very important. About three years ago, we started researching machine learning and that sparked features like Colorize and Pose Scanner. We're currently working on even more new features, so we hope you're looking forward to those. This maybe isn't as exciting, but we also want to continue to improve the brush engine. We welcome your opinions, too!

─The Smart Smoothing(*10) feature became a big topic lately. People were really excited about something like that when it was announced.
Watanabe: We're always hoping we can keep putting out new features that help creators do better and have more fun. Clip Studio Share just came out the other day. We want to keep pushing out products like that, that make our users happy.

Kobayashi: Our philosophy is to support creators with technology and that's always been our desire. We want to cheer on all those new creators who have taken their first steps into creation.

─Are there any issues Celsys expects to face, or future goals?
Kobayashi: In terms of marketing, we are expecting younger generations to own computers less, so we'll need to figure out how to approach those users. And with international customers – the further they are from our HQ, the harder it is for our voice to reach them. So, we need to think about how to connect with them.

Yokotsuka: It's important to have a lot of useful functions. But it's also really important to make sure you're not losing performance. You don't want what you're offering to get out of hand.

Watanabe: The web service end of things has been around for about 10 years, but we've got to maintain servers and also occasionally it's been contradictory to functions that users wanted. How we should roll things out, what will get the best results, that's the most important thing. It's our mission, you could say.

─Anything you want to say to the users?
Yokotsuka: I think there are a lot of people out there who want to create but don't know where to start. I want to say we really want to support those people with our best efforts, Also, sometimes on social media, people call us out and say that there's no one at Celsys who can actually draw. But, the truth is, people from our development team on down to our HR department love to make art. So, for those people, please take heart (laughing).

*1 Clip Studio Assets: https://assets.clip-studio.com/
*2 Toei Animation: An animation production company established in 1948. Toei Animation created Japan's first full-scale animation studio.
*3 AWS: AWS stands for Amazon Web Services. This is a cloud computing service provided by Amazon.
*4 Clip Studio Ask: https://ask.clip-studio.com/
*5 Clip Studio Tips: https://tips.clip-studio.com/
*6 Clip Studio Share: https://share.clip-studio.com/
*7 Procreate: A graphics application exclusive to iOS, developed and sold by Savage Interactive.
*8 SketchBook: A graphics software available for multiple platforms (PC, iOS, and Android), developed and sold by Autodesk.
*9 Adobe Fresco: A digital drawing & painting application developed by Adobe geared towards mobile users for the iPad and Apple Pencil.
*10 Smart Smoothing: A deep learning function in Clip Studio Paint used to reduce jaggies and noise caused by changing the resolution of images or resizing images.

Note: This article was first published in Japanese by BNS in October 2019.
Drawings on the Net: What has the Internet Changed About Illustrating?
Drawings on the Net: What has the Internet Changed About Illustrating?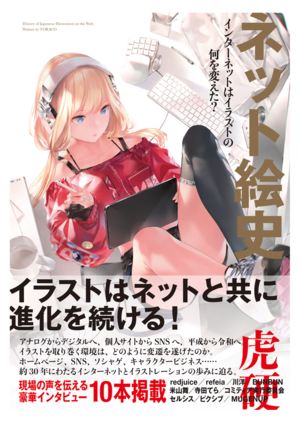 Summary: Illustrations continue to evolve with the internet!
You can't go a day in modern Japan without seeing character illustrations. When and how did such illustrations become so integrated into our daily lives? A key component is their integral relationship with the internet.
This book traces the relationship between illustration and the Internet told by an author who has watched their history progress. As Heisei has become Reiwa, so has traditional art become digital, and personal blogs have transitioned to social media. As the environment surrounding illustrations has transformed, so has the way illustrations are used by businesses. Finally, this book also contains ten first-hand interviews with artists and the companies that support them, covering this topic from various perspectives.
Total number of pages: 296 pages
Publisher: BNN, Inc. (October 23, 2019)
Language: Japanese
ISBN-10: 4802
511280
ISBN-13: 978-4802511285
Release Date: October 23, 2019

Drawings on the Net: What has the Internet Changed About Illustrating?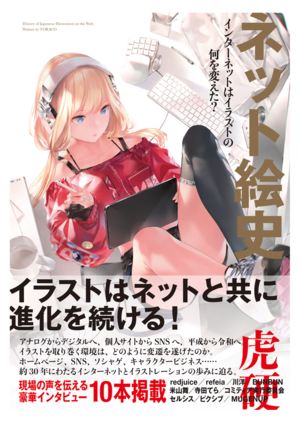 Summary: Illustrations continue to evolve with the internet!
You can't go a day in modern Japan without seeing character illustrations. When and how did such illustrations become so integrated into our daily lives? A key component is their integral relationship with the internet.
This book traces the relationship between illustration and the Internet told by an author who has watched their history progress. As Heisei has become Reiwa, so has traditional art become digital, and personal blogs have transitioned to social media. As the environment surrounding illustrations has transformed, so has the way illustrations are used by businesses. Finally, this book also contains ten first-hand interviews with artists and the companies that support them, covering this topic from various perspectives.
Total number of pages: 296 pages
Publisher: BNN, Inc. (October 23, 2019)
Language: Japanese
ISBN-10: 4802
511280
ISBN-13: 978-4802511285
Release Date: October 23, 2019