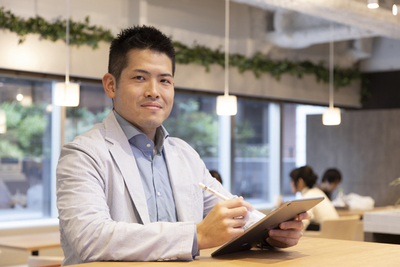 Yo Miki
- How did you join Celsys?
I joined because I've enjoyed drawing manga when I was a student, so I'm a big fan of
Clip Studio Paint
. I also enjoy interacting with creators from around the world, and have spent several months in Singapore and Malaysia teaching how to draw manga.I joined the company to use these experiences and language skills to help make Clip Studio Paint popular around the world.
- What kind of work do you do?
Currently, as part of the marketing team, I work on managing content for our owned media, managing our Facebook and Twitter accounts, responding to external inquiries, and checking books published about our software.
- What motivates you at work?
When we post a video to our English Facebook page introducing any features of Clip Studio Paint, it gets a huge reaction from our overseas users and potential users. That's a very rewarding moment.
- What would you like to work on in the future?
I'd like the opportunity to use my language skills, including a TOEIC score of 890, to go overseas and directly hear from our overseas users. I'd also like to reach more potential users through evangelist activities. We have a company culture that's open to considering new ideas, so I think we have many opportunities.
*Stated information as at the date the contents being made.
*Link is in Japanese